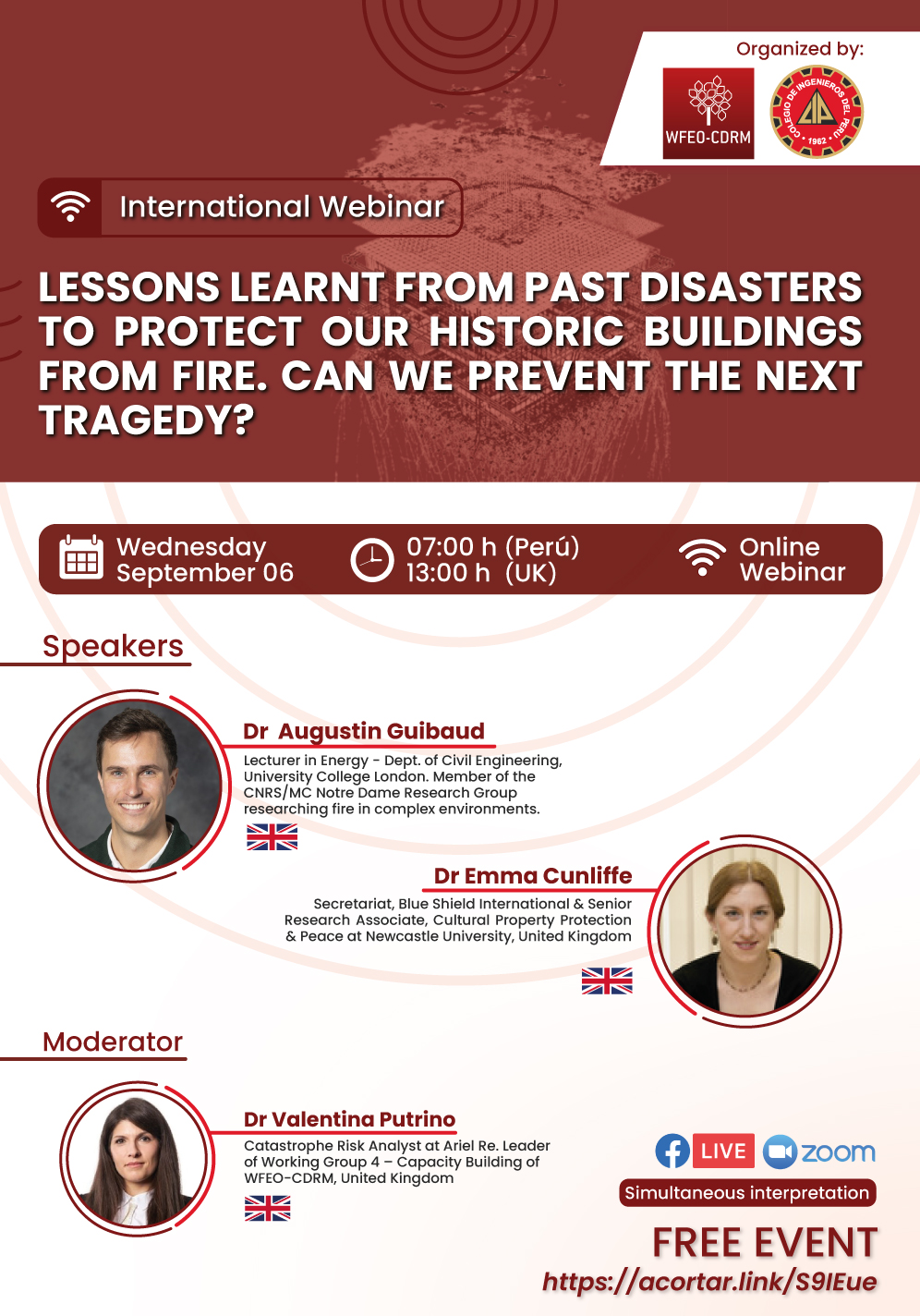 INTERNATIONAL WEBINAR
LESSONS LEARNT FROM PAST DISASTERS TO PROTECT OUR HISTORIC BUILDINGS FROM FIRE
The Technical Committee on Disaster Risk Management of the World Federation of Engineering Organizations (WFEO link a:http://www.wfeo.org/) and the Peruvian Engineers Association (CIP link a: https://www.cip.org.pe/) are organizing this important event to be held on September 06, at 13:00 hrs. London, United Kingdom.
Fire protection in modern structures focuses on preserving life, allowing occupants to escape unharmed while supporting safe intervention by the fire brigade. But when considering historic buildings, challenges arise. This webinar will explore and suggest ways to improve heritage conservation and introducing the Blue Shield movement, and more widely about the challenges of emergency response generally in conflict and disaster, with a focus on fire.
OUR SPEAKER
| | |
| --- | --- |
|   | Dr. Augustin Guibaud is an Assistant Professor in the Civil Engineering Department at University College London (UCL). There, he leads fundamental and applied research on fires in order to improve safety and sustainability through integrated design. Dr. Augustin Guibaud joined UCL as a Research Fellow in 2020, following a PhD on fire fundamentals at Sorbonne Université (Paris, France) for which he received the 2020 Prix de la Chancellerie. He holds a combined MSc degree from Ecole polytechnique (Palaiseau, France) and Imperial College (London, UK). He is a member of the Structure group of the French CNRS/Ministry of Culture Chantier Scientifique Notre Dame de Paris, where he supports the ongoing investigation and restoration efforts. |
|   | Dr. Emma Cunliffe is part of the Secretariat for the Blue Shield Movement, where she is the national committee coordinator, provides training to heritage professionals and armed forces in heritage protection, and advises on implementation of international law. She is also a Senior Researcher in the UNESCO Chair Cultural Property Protection (CPP) and Peace team at Newcastle University. She has a PhD in satellite imagery assessment of peacetime damage to archaeological sites in Syria from Durham University, and worked for some years for the Endangered Archaeology in the Middle East and North Africa Project before joining Blue Shield. Her new co-edited book, The Routledge Handbook of Heritage Destruction, has just been released. |
| | |
OUR MODERATOR
| | |
| --- | --- |
|   | Dr. Valentina Putrino is currently a Catastrophe Risk Analyst at Ariel Re. She obtained her PhD from University College London (UCL), focusing on developing a framework for multi-hazard assessment of historic stonework structures. She currently holds the position of Chair of the EEFIT Committee, she is the SECED Representative for the World Federation of Engineering Organizations (WFEO) – Committee on Disaster Risk Management (CDRM), and is also the designated liaison member between both SECED and EEFIT committees. |
| | |